Álaind Marketing provides a customer focus approach to help clients successfully market their brand, products and services. I systematically apply my marketing process wheel to my work to deliver results to happy clients. Here you can also see the specific type of marketing help we offer.
My Approach to marketing consulting:
The Álaind Marketing approach is to listen, understand, make recommendations and critically, offer the type of marketing help you need to implement them. I aim to make the process painless for you and to deliver results that are helpful to your organisation and compelling to your customers and stakeholders.
Marketing Process: I offer help in all these areas.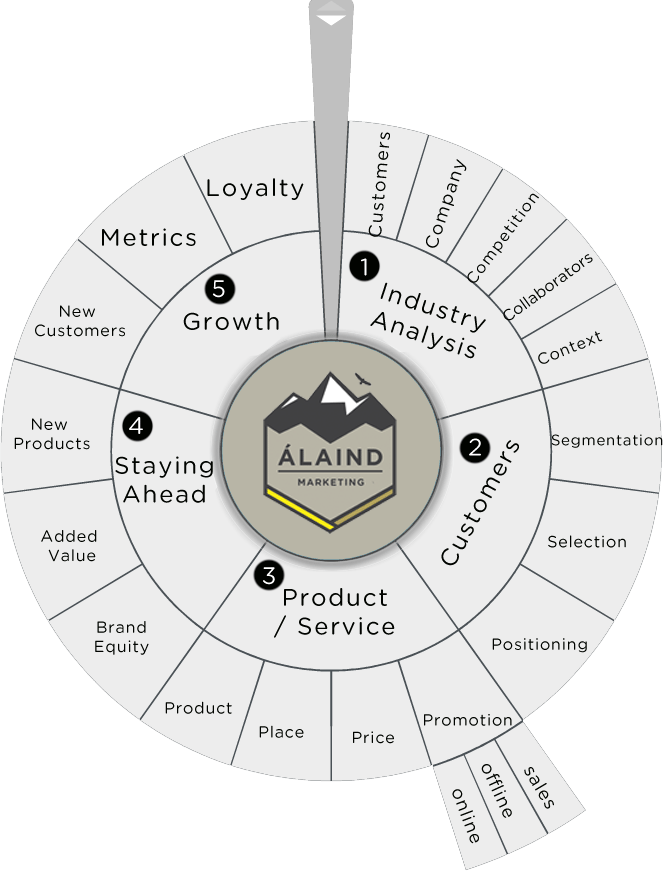 I apply the marketing process wheel above when devising strategy for our clients, which delivers quality information and insight to enable good decisions to be made.
The marketing process involves firstly understanding the marketplace and subsequently making decisions about which customers to serve, how to satisfy them and build long-term relationships in order to ultimately achieve the profit objectives of the client.
I offer a tailored service to match your needs ranging from conducting the entire marketing process to supporting you with a specific area of my expertise. I'd be delighted to discuss your specific requirements with you. You can contact me in strictest confidence.
I look forward to hearing from you..
Regards,